Steel Metal Horse Arenas And Buildings
Integrity Steel Buildings can offer the individual who loves horses a Horse Riding Arena or Horse Barn Kit for their riding needs. Each of the Indoor & Covered Riding Arena designs is open and ready for you to enjoy the ride and thrill of taking the horses through their paces. The Horse Riding Arena kits gives you the space needed to comfortably make those difficult jumps and any other maneuvers you might be working on. Both the rider and the animal must feel safe and comfortable in their surroundings to make it a good ride for all.
All of our Indoor & Covered Riding Arena designs are customized to fit the needs of the individual. Each of the Horse Riding Arena, Horse Barn Kit , or Riding Arena buildings can be constructed to almost any width and length you need. It is even possible to customize the exterior of your Horse Barn Kit with a choice of colors and trims while also adding to the interior a variety of light fixtures, doors, and windows. Integrity Steel Buildings are pre-engineered to be so easy you can put together one of our Horse Riding Arena setups yourself to save some extra money. Our prices are well below the competitors and time is saved by working with us on construction of your new Horse Barn Kit . Traditional materials are a thing of the past and will mot be missed when you see how long-lasting our Horse Riding Arena can be.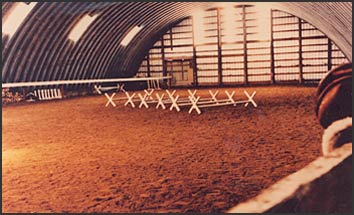 Why Buy from Integrity Steel Buildings?
Our Indoor & Covered Riding Arena buildings are made with the highest quality materials and components which meets or exceeds industry standards.
MADE IN THE USA
Best warranty in the business.
Responsive and Helpful Customer Service Team
Many Horse Barn Kit types available to meet your needs
We have many years of experience and can assist you with all questions and concerns. We offer personalized service to help make the process of shopping for your Horse Riding Arena or Horse Barn Kit an easy one. Our philosophy at Integrity Steel Buildings is to help you make the decision that best SERVES YOUR NEEDS. Unlike many of our competitors who are in this for a quick buck....we are here to answer your questions on YOUR SCHEDULE. You are the boss! When you are ready to purchase a Indoor & Covered Riding Arena you will know that Integrity Steel is providing you a quality product at a fair price.
The indoor riding arena is usually the centre bit of most riding facilities and equestrian centers. Its variety of utilization possibilities and experience of other buildings for instance stables, grooming bays etc. are required factors within the planning process. Integrity Steel Structures gives a wide variety of building types plus a rich a selection of fitting and equipment options to make "living and dealing" more agreeable for you and everyone involved in the project.
Designed to harmonize with the encompassing landscape, the exteriors of your riding arenas also make some positive impression.
Proficient arranging for indoor riding arena construction. We at Integrity Steel Structures only get satisfied when, after intensive consultations with the customer, we happen to be sure that things are right - even down to your gut instincts feeling for the building.
Our experienced team ensures that this too is taken care of. Our architects and engineers from the planning consultancy, the carpenters from production, and each person involved all make their contribution. The outcome is individual concepts which have been thought through to the past detail - and riding arenas and stables wherein horses and riders feel equally in your home.
Every riding arena is different. This is the premise from which Integrity Steel works. Nevertheless, we do possess a series of unchanging criteria that always apply and often make up the basis for individual Integrity Steel Structures -specific products and buildings. For example, the primary Integrity Steel Structure indoor riding arena for which you as the customer can choose from a large variety of alternatives in fittings, equipment and extensions etc. The Integrity Steel Structures quality characteristics have not changed: a functional and well-conceived interior layout, optimal ventilation and illumination, robust safety kick walls, optimal footing, as well as having the installation of incredible sprinkler system. These are just but the few examples.