STEEL BUILDINGS AND METAL BUILDING KITS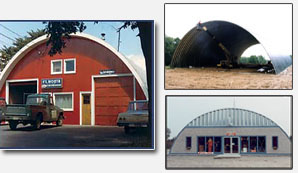 Thank you for visiting Integrity Steel Building home on the Web. We specialize in Steel Span Building Kits that are a durable and cost effective solutions for any type of workshop, garage, shed or industrial building needs. Our metal buildings offer custom sizes and many accessory options. Our Steel Buildings will meet your counties wind load ratings and are fairly easy to assemble without the need for heavy equipment. Each metal building section is 2' wide x 10' long and are all pre drilled for your convenience.
STEEL WORKSHOP - STEEL HORSE BARN - STEEL GARAGE - STEEL BUILDING KITS - STEEL SPAN
Most Integrity Steel Building customers choose to perform the erection themselves....many times over a weekend with some help from family, friends or neighbors. Our Steel Buildings are superior in most every way to a wood frame building or pole barn. Your Steel Building won't burn and will save you money the cost of insurance.
Some of the advantages that you will enjoy with a steel building from Integrity Steel are...
Heavy Duty Steel Quality Building Material w/ Galvalume coating on roof and walls
Manufactured in accordance with ASTM international standards
Grade 8 bolts w/ 1500 hour salt spray testing
Durable, Secure and Weatherproof Metal Building
Ease of assembly - sections just bolt together - no cranes or heavy equipment needed
Maintenence Free and guaranteed not to discolor or rust through
35 Year Warranty on all of our steel structures*
Knowledgeable and Helpful sales staff and customer service team
Personalized service and efficient scheduling and delivery of your metal building
METAL AIRCRAFT HANGAR - METAL AGRICULTURAL BUILDING -METAL CHURCH BUILDING
There are many accessories for the Steel Arch Buildings to customize the metal building to suit your individual needs. Just some of the options would include, Colored Endwalls to more closely blend in with the metal buildings environment, skylights, Endwall frame and windows, service doors, overhead or sliding doors, turbine vent kits, and insulation.
Steel buildings are considered the most flexible solutions that you can purchase for contractors, builders, complete it yourselves as well as their families. These durable, virtually no maintenance building solutions come with significant benefits. Custom engineering and design of today's metal buildings allow owners to obtain the look they need, when using the functionality they should get.
The stringent state-of-the-art requirements of today's building owners demand that their building system employ simply not only advanced designs, but additionally offer flexibility, efficient use of energy, and speedy construction times. When a steel building is made, design, fabrication, and construction times are greatly reduced. And future expansion is uncomplicated.
The increasing popularity of Integrity Steel's Steel Building Systems has stemmed from pre-engineered metal buildings signature benefits, which include:
1. Durability
Pre-engineered steel buildings are incredibly durable. They are definitely sufficiently strong to face up to heavy snowfall, high winds, and powerful earthquakes. The steel roof panels will also be coated using an aluminum compound called galvalume to prevent rusting and increase the life of this very panels. They're also non-combustible so it's unlikely they are going to be destroyed by fire.
2. Quick Assembly
Construction of a traditional wood building takes a minimum of several months to finish up. Assuming that your steel building structure is purchased from a reliable provider and it does not require significant customizing, they are very quick and easier to erect. Anchor bolt patterns, detailed assembly drawings, and a bit by bit erection guide are everything included with every building. All major connections are bolt-together with pre-punched holes, and the majority components are precut and numbered to correspond with your drawings for quick assembly.
3. Flexibility
Pre-engineered metal buildings could possibly have few to no interior columns, therefore their interior layout can be more flexible and be better for storing large pieces of equipment, installing lifts, and conducting interior activities.
Pair that having the capability to have much larger door openings (e.g. overhead, rolling, and sliding doors) as well as having the benefits start adding up significantly. Larger door openings make her better for storing large items of equipment. From within an agricultural or aviation perspective, this makes them ideal for storing large aircraft or farm equipment.
4. Low energy use
Rigid frame steel buildings can possibly be insulated far better than wood frame steel buildings, which boosts energy efficiency and might result in vast savings on HVACs costs.
5. Significant Cost Savings
Pre-engineered steel buildings usually cost less than traditional construction. The event process with pre-engineered steel buildings is often not affected by delays like traditional construction. Because the building just should be assembled, there are actually rarely any surprise cost increases. Also, these steel buildings can easily be assembled and erected by almost anyone, so costs of labor are reduced and also you save time in the process.