Steel Metal Livestock Barns And Buildings
Integrity Steel Buildings understands how delicate a thing your livestock is to your future. There is no time and money that can be wasted because of illness in the animals or anything else that can influence production and profit for you. This is why it is so necessary to have one of our Agricultural Buildings to protect your precious investment. Each and every animal you have needs to be secure and safe from the elements. Integrity Steels alternative to Pole Barn buildings give them just that. Not to mention, each one of our Agricultural Buildings will give them a very sanitary place to rest. This is the wonderful thing about our our alternative to Pole Buildings as it does just that.
The steel construction of all our building are superior to Pole Buildings because our buildings use only the highest grade materials. The custom design of each and every Pole Barn alternative building will meet or exceed the needs of each customer. You can choose what size Agricultural Buildings fits you best and we will be glad to provide you with those special dimensions you desire in your alternative to a Pole Barn. As opposed to a Pole Building, a Steel Agricultural Building will be able to grow as your farm grows and can easily be expanded to accommodate more Commodities, Livestock, and expensive Farm Equipment.
Integrity Steel Buildings has many years of experience providing our customers with the Agricultural Buildings that are just right to fit their needs and we can help you to do the same. With a call to our friendly and knowledgeable staff of professionals, your Pole Barn alternative project can get underway immediately. There is no better time to call than right now. We also have many colors and designs to choose from in our Pole Building creations.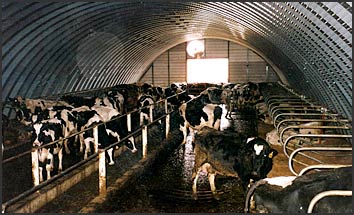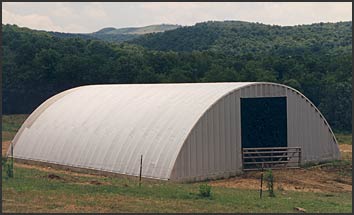 Why Buy from Integrity Steel Buildings?
Our Agricultural Buildings are made with the highest quality materials and components which meets or exceeds industry standards.
MADE IN THE USA
Best warranty in the business.
Responsive and Helpful Customer Service Team
Many Pole Barn types available to meet your needs
We have many years of experience and can assist you with all questions and concerns. We offer personalized service to help make the process of shopping for your Agricultural Buildings for your Pole Buildings an easy one. Our philosophy at Integrity Steel Buildings is to help you make the decision that best SERVES YOUR NEEDS. Unlike many of our competitors who are in this for a quick buck....we are here to answer your questions on YOUR SCHEDULE. You are the boss! When you are ready to purchase a Pole Building or Pole Barn you will know that Integrity Steel is providing you a better quality product at a fair price.
As Integrity Steel Structures, we have worked tirelessly on numerous steel frame projects on farm building, ranging from simple farm outbuildings for storage to huge grain or potato stores, livestock sheds or cattle and chicken sheds.
We're also the happiest for helping with end bay and side extensions and existing building conversions. Currently we are helping local farmers in Herefordshire and Worcestershire regarding their end and side extensions to expand their farms ready for the busy year ahead. We are actually set and a lot more than glad to help. So give us this opportunity to help you out for your future plans.
We can provide all or parts of the service you need, from initial design and planning permission to fabrication of a given steelwork and full build service including roofing and cladding. Obtaining planning permission has become extra complex as authorities struggle to safeguard agricultural land and it also can be useful to you to draw on our experience over a spectrum of farm buildings.
Don't forget, in case you are able to erect the building by just using your own resources please check out our farm building kits, pre-fabricated and supplied with fixings and the entire plan to erect your own individual kit. Our company will also assist in self erect with suitable cell phone calls if you're saddled with the plans supplied. We aim to be the best kit form farm and industrial steel frame buildings ,which include all the steel, sheets, (fibre cement or tin), fixings and full plans with expert advice on hand in your becking call if required.