Prefabricated Steel Metal Buildings for Auto Lot
Integrity Steel Buildings knows how fast Prefabricated Steel Metal Buildings can go from small to gigantic in no time at all. This means your Metal Shop Building needs to expand along with the business and in the same record time. This is what makes our Arch Steel Buildings so important to your business. We can provide you with any size Arch Steel Buildings spanning a whopping 200 feet in height and unlimited choice on the specific width and length you need. The Steel Metal Buildings we provide can hold any number of vehicles and keep them safe from vandalism, theft, and the weather. You can easily secure hundreds of vehicles in our column less interior with no worries.
Keeping an inventory inside our Metal Shop Building or our Arch Steel Buildings means less stress on your part worrying about the safety of your client's autos. You can choose to add to the Arch Steel Buildings, Metal Shop Building and Prefabricated Steel Metal Buildings, doors, windows, insulation and other custom touches tot your new prefabricated Steel Metal Buildings. We have helped many others start their own Metal Shop Building by providing them the most durable and flexible Arch Steel Buildings for their storage needs. Contact us here at Integrity Steel Buildings today to see how we can provide you with an affordable option for your business.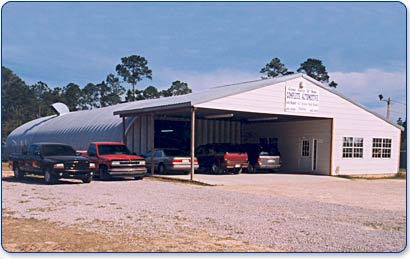 Why Buy from Integrity Steel Buildings?
Our Steel Metal Buildings are made with the highest quality materials and components which meets or exceeds industry standards.
MADE IN THE USA
Best warranty in the business.
Responsive and Helpful Customer Service Team
Many Metal Shop Building types availalble to meet your needs
We have many years of experience and can assist you with all questions and concerns. Personalized service to help make the process of shopping for your Arch Steel Buildings an easy one. Our philosophy at Integrity Steel Buildings is to help you make the decision that best SERVES YOUR NEEDS. Unlike many of our competitors who are in this for a quick buck....we are here to answer your questions on YOUR SCHEDULE. You are the boss! When you are ready to purchase a Prefabricated Steel Metal Buildings or Metal Shop Building you will know that Integrity Steel is providing you a quality product at a fair price.
Our Buildings
Building Types and Exclusive Features
With a straight roof, straight sided, clear span design, Integrity Steel buildings possess a uniform roof slope of 18 degrees. Integrity-Steel provides the most width options together with the largest width any company in the industry involving this building type.
S-Series
The competition can't match us for low roof lines and very high sidewall clearances within this model. A reduced roof line could result in a more pleasing look.
Alpine
Integrity-Steel was the first to add the Alpine model. This new, innovative design encompasses a cathedral-style roof plus a steeper sidewall.
Arch Style
We offer more arch style models than anybody else. Widths fluctuate from 19' to 100' in in just about any length. Our single or double overlap options provide better strength.
Custom
Every Integrity-Steel Building, except for the mini, is based upon our standard 2' x 10' panel. Therefore, creating custom shapes, sizes and applications is very easy. All of our buildings are clear span, numerous unique designs may be accomplished.