Steel Metal Dairy Barn Facilities
Integrity Steel Buildings takes time to design and pre-engineer the best Dairy Barn designs. Each of our Steel Barn construction consists of the entire package of elements needed to efficiently run a dairy farm. With a staff that is ready to serve you, the exact Dairy Barn you need is only a phone call away. No matter what type of Steel Barn design you choose or what the Agricultural Buildings might include; such as lighting, doors, windows, and such, we can work with you to make it personalized.
If you prefer a traditional Dairy Barn setup or have special ideas of your own for the Steel Barn design, we are ready to serve. Take time to browse our website and see what type of Agricultural Buildings and Steel Barn designs we offer to our customers. It does not matter how many head of livestock you have, we can ship a Dairy Barn to your farm to hold them all. Integrity Steel Buildings is all about providing you a durable Agricultural Buildings that will last, serve your needs for many years, and give you a fair price as well.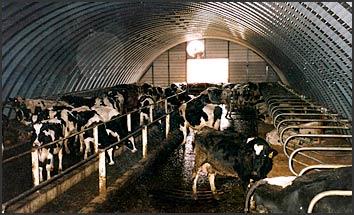 Why Buy from Integrity Steel Buildings?
Our Agricultural Buildings are made with the highest quality materials and components which meets or exceeds industry standards.
MADE IN THE USA
Best warranty in the business.
Responsive and Helpful Customer Service Team
Many Pole Barn types available to meet your needs
We have many years of experience and can assist you with all questions and concerns. We offer personalized service to help make the process of shopping for your Steel Barn or your Agricultural Buildings an easy one. Our philosophy at Integrity Steel Buildings is to help you make the decision that best SERVES YOUR NEEDS. Unlike many of our competitors who are in this for a quick buck....we are here to answer your questions on YOUR SCHEDULE. You are the boss! When you are ready to purchase a Dairy Barn or Steel Barn you will know that Integrity Steel is providing you a quality product at a fair price.
Integrity Steel's metal barns are the best option for multi-purpose farm barns. Some common uses for our steel barns are for equipment storage, farm buildings, farm storage sheds, hay outdoor storage buildings, feed storage buildings, and general storage buildings. Our affordable metal barns are as well utilized to interchange post-frame barns or pole barns due to reduced construction time. Our steel barns aren't just designed for storage! We have steel buildings that are commonly used for livestock shelters along with metal horse barns. They can be customized with horse stalls or livestock pens.
Like our metal carports, steel garages, and custom workshops, our metal barns are designed through largest metal carport and steel garage company in America. The company has had experience of more than 14 years in manufacturing steel buildings and that they produce the highest-quality materials used to construct your metal barn. Installations crews are equally well-trained and are also are proud of their work, providing you with a top quality steel barn that's based to last.
Metal Horse Barns: We offer numerous varieties of barns from clear-span steel building used as storage barns and raised center aisle buildings used as metal horse barns. We have now three primary styles for barns, two of which are raised center aisle barns and one is typically a continuous slope barn. Visit our barn photo gallery to view the differences in every type of the metal horse barns.
We offer our high-quality sectional steel horse barns in widths as much as 54' wide. The majority of our top quality metal horse barns are constructed your level on-site in a matter of a couple of hours. The very best quality materials are used to construct our metal barns and storage buildings and the majority of those materials are fabricated through manufacturer.