Steel Metal Horse Barns And Riding Arenas
Integrity Steel Buildings knows how confusing and time consuming it can be to work out all the intriquite details of building your new Horse Barn. There are so many questions to be answered like, "Will the new Horse Stall be able to grow as my needs grow?" "Will the expansion of the new Metal Horse Stable be an easy thing to accomplish?" Will I be able to afford it?" The answer to all these questions is YES!
Each of the Horse Barn kits are specially designed to grow as your business grows. All of our Horse Stall designs can be customized to fit your individual needs. You can choose from a range of exterior colors, doors, windows, and lighting styles for the interior. It is also possible to get one of our Metal Horse Stable kits constructed to a span of 70 feet while the length is left virtually unlimited in size. Integrity Steel Buildings Horse Barn kits also need no maintenance and will last for many years to come.
Our Horse Stall buildings are built with the highest quality steel and components to ensure they outlast the traditional materials such as wood and brick. We also can assure that damage from the elements and insects will not be a problem with either your Metal Horse Stable or Horse Stall. It is time to try one of our Metal Horse Stable buildings today. Give us a call so we can help you begin the process to have your own Horse Barn quickly and in a cost effective manner.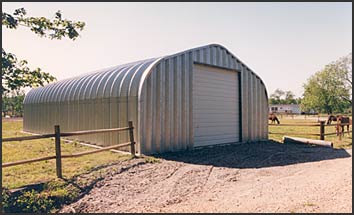 Why Buy from Integrity Steel Buildings?
Our Horse Stall designs are made with the highest quality materials and components which meets or exceeds industry standards.
MADE IN THE USA
Best warranty in the business.
Responsive and Helpful Customer Service Team
Many Metal Horse Stable buildings available to meet your needs
We have many years of experience and can assist you with all questions and concerns. We offer personalized service to help make the process of shopping for your Horse Barn or your Horse Stall designs an easy one. Our philosophy at Integrity Steel Buildings is to help you make the decision that best SERVES YOUR NEEDS. Unlike many of our competitors who are in this for a quick buck....we are here to answer your questions on YOUR SCHEDULE. You are the boss! When you are ready to purchase a Metal Horse Stable or Horse Barn you will know that Integrity Steel is providing you a quality product at a fair price.
Here in Integrity Steel Structures we specialize in metal barns, horse barns, along with other types of steel buildings. Unlike pole barns that have a wood frame, each of our metal and steel barns has a tubular steel frame that will not rot and its termite proof! Our steel buildings are perfect for horse barns or equestrian barns, or farm outdoor storage sheds.
All horse owners know and will always attest to the fact that kicks may end up in animal injury. When a horse kicks through wood, there's the possibility for serious splinters. When animals kick a wall of brick or masonry they could break a leg. Steel and metals panels, however, are sufficiently strong to never break; and malleable enough to give, rather than just causing a chance. Animals also cannot chew through steel; it is for this reason that Integrity Steel is providing a safer environment with less maintenance.